Bristol's Golden Keys
When you see the keys on Tarik Nascimento e Silva's lapel, you can be sure you have one of the world's best concierges in front of you.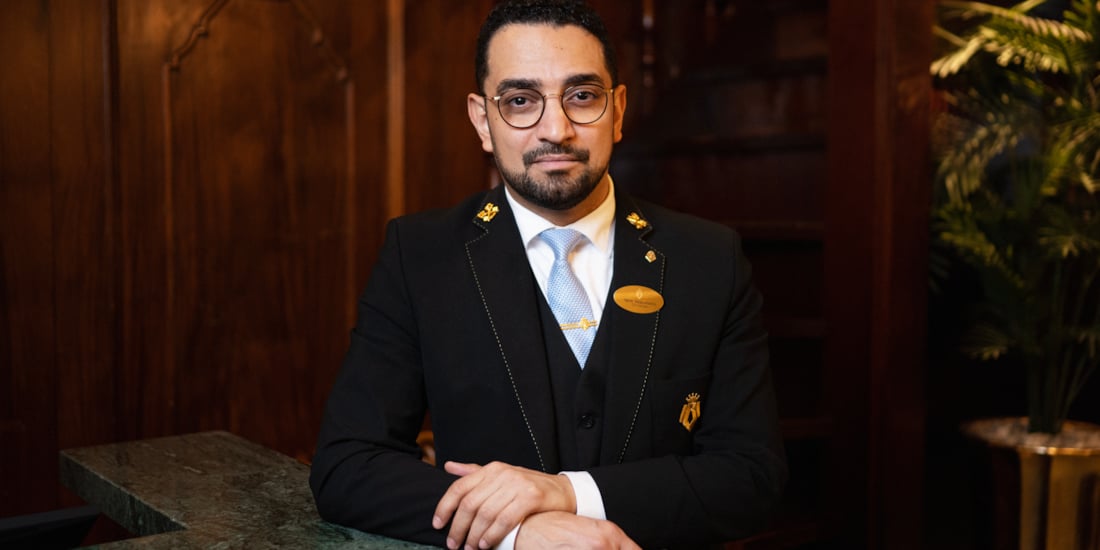 At Hotel Bristol in Oslo, you'll find concierge Tarik Nascimento e Silva. He looks pretty much the same as usual, but an observant guest will notice two gold-plated crossed keys on his uniform.
"We have an American couple staying here now, they saw the keys right away and congratulated me," says Tarik, who just had the keys pinned to his lapel.
He is clearly proud, and with good reason. The golden keys are proof of membership of Les Clefs d'Or, the international organisation for concierges.
Proud boss and supporter
Reception Manager at Bristol, Live Lorck, has been Tarik's boss for almost two years. When he finally got the keys and pinned them to his coat, the tears started to roll.
"It's been a long time since I've been so proud of someone. He has worked very hard, he has read and organised and managed alongside the job. It means so much to him!"
The keys are not only a symbol of recognition, but also provide the concierge with an invaluable network. The membership includes contact information for all the other members in the world. Live hopes that more Norwegian concierges will apply for membership in Les Clef's d'Or.
"A country must have 15 members to have a Les Clefs d'Or committee. Today, Norway is under Les Clefs d'Or Sweden. We had to approach the Swedish committee to apply for membership for Tarik."
From Nobel Prize to airline
To be considered for Les Clefs d'Or, you must have five years' experience in the reception area of a luxury hotel, at least two of which must be as a concierge, but before you can even be participate at all, you must be approved as a worthy candidate by the association.
"I had to answer everything from questions about who won the Nobel Prize to what logo different airlines have," says Tarik.
In advance, he compiled everything he came across that could be relevant: tourist attractions in various countries, UNESCO's World Heritage List, and not least the history of Les Clef's d'Or.
Les Clefs d'Or was founded in France in 1929 and now has around 3,300 members worldwide. In Norway, there are currently only three members.
Never say "no"
When you see the golden keys, you know that you will get exceptional service. A good concierge does not respond with "no", but always tries to have an answer and find a solution.
"A man once called and asked if he could bring his pet to the hotel. It was fine initially, but became more complicated when the pet turned out to be a tiger," laughs Tarik.
Although the hotel did not allow tigers, he found a solution for the man. Another time a guest wanted VIP tickets to the Premier League final on match day. Tickets were sold out long ago, but Tarik fixed it.
"Being a good concierge is all about networking. I spend a lot of time outside the hotel, visiting restaurants and tour guides. Even though I am now a Les Clefs d'Or concierge, I will continue to expand my network. I have to know people everywhere, so I can give our guests the best service," he smiles.
"It's been a long time since I've been so proud of someone. He has worked very hard, he has read and organised and managed alongside the job. It means so much to him!"