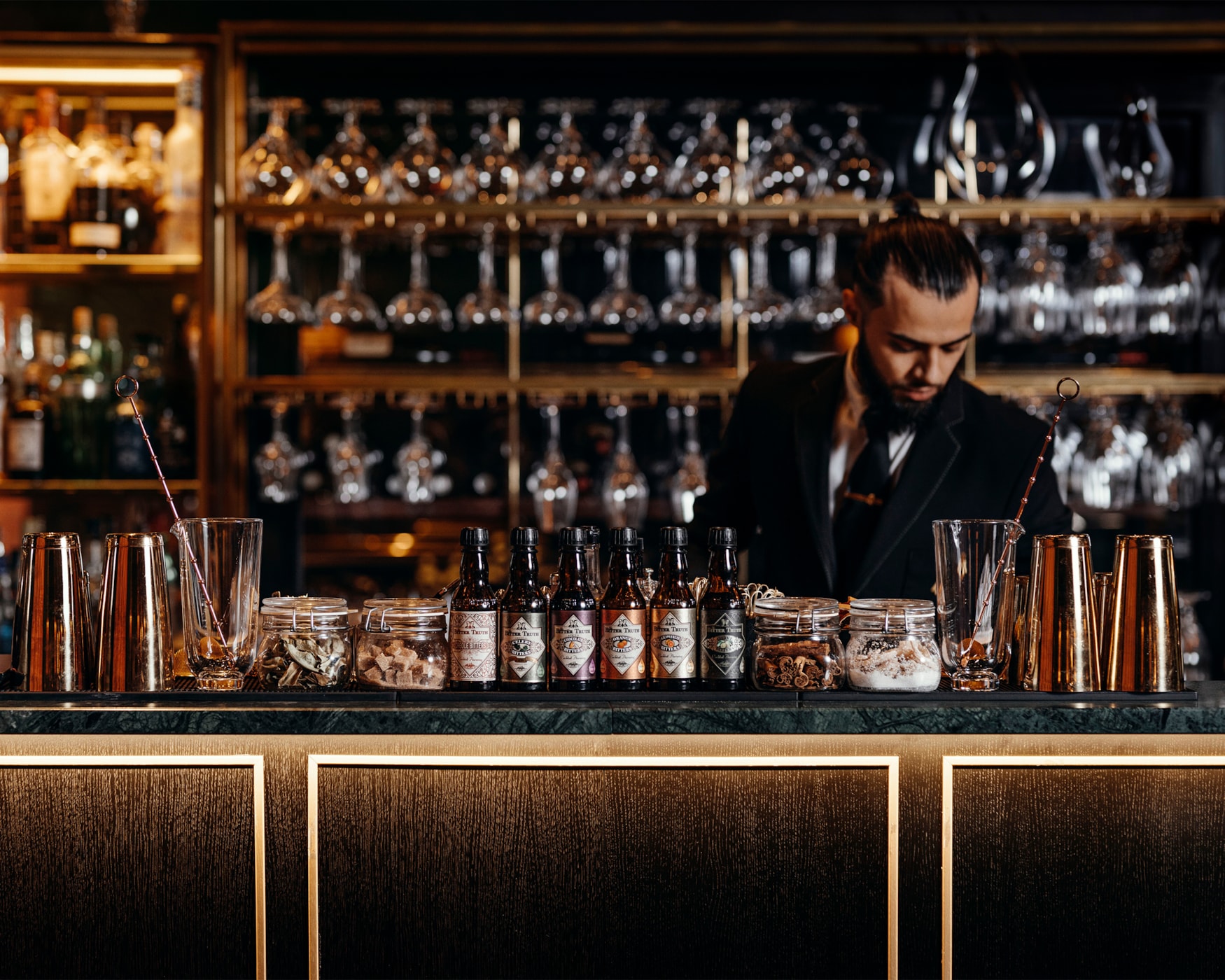 Aperitivo Classics
The Vesper
Equal parts of Harahorn Gin, Absolut Elyx Vodka, Bianco Ambrato Vermouth and Orange Bitters
The Gibson
Equal parts of Bombay Sapphire, Sakura Vermouth
Dry Martini
Plymouth or Resept XVII Gin
Negroni
Bombay Sapphire. Boutique-y Gin Co Chocolate Plague
House Cocktails
Fruit Gin Mojito
Boutique-Y Co Gin, Mint, Lime, Cane sugar, Soda water, Spit roasted Pineapple Gin, Rhubarb Triangle Gin, Cherry Gin
Gin – Espresso Martini
Kimerud Botanical, Khalua, Vanilla, Espresso, Gold & Chocolate bar
The Aviation
Moonshot Gin, Luxardo Maraschino, Crème De Violet, Lemon
The Martinez
Skagerrak Gin, Mancino Amaranto Vermouth, Luxardo Maraschino, Bitters
The Sloe Mule
Ableforth's Sloe, Lime, Three Cent Ginger beer
Red Snapper
Anchor Junipero, Tomato, Lemon, Worcestershire Sauce, Tabasco Jalapeno, Bristol Spices
Bee`s knees
Bathtub Gin, Honey, Lemon
Gin
Bombay Sapphire London Dry
Boutique-y Gin Chocolate Plague
Boutique-y Gin Rhubarb Triangle
Boutique-y Gin Spit-Roasted Pineapple
Hendrick's Midsummer Solstice
Sorgin Small Batch Sauvignon
Broken Bones Navy Strength
Inverroche Gin Coco L´orange
Weber Haus 48 Pink Organico
Weber Haus 48 Amburana Organico
Four Pillars Navy Strength
Four Pillars Spiced Negroni
Tonic & Mixers
Franklin & Sons Indian Tonic
Three Cent Pink Grapefruit Soda
Thomas Henry Bitter Lemon
We also have a wide selection of whiskey, cognac, rum, liqueurs and beer - both bottled and draft.
Live football
At Bristol Bar we have two TV screens mounted on the walls. This is the place to watch football in an atmospheric environment.
Two favourites
A couple of items produced by our bar deserve a special mention: One is our legendary Espresso Martini, and the other is the thrilling Gin & Tonic menu, which we regularly update.
Have the entire bar to yourself
The first floor of the bar can be reserved for private events. Our skilled bartenders are on hand to compose a drinks menu that will be perfect for your event. Contact us on 22 82 60 00 to book.